Catalogue raisonné
15 boeken gevonden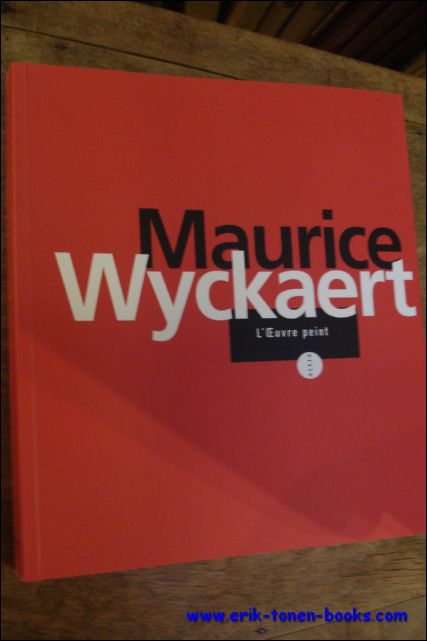 Gérard Berréby et Danielle Orhan. Guy Debord
Maurice Wyckaert, L'oeuvre peint (1947-1996 ) Dans la guerre froide la révolte et son double La nouvelle révolte des artistes : autour de l'Internationale situationniste.catalogue raisonné
FR., Alia edite, 2013. softcover, format : 210 x 240 mm, 576 pages, catalogue raisonné. fine condition !!. ISBN: 9782844855978
L'Oeuvre de Maurice Wyckaert montre avec virtuosité que le signe abstrait ne saurait s'opposer au motif figuratif. La filiation picturale de Wyckaert se situerait de la Renaissance à Cobra, en passant par Fernand Léger, Karl Schmidt-Rottluff et les expressionnistes flamands, Constant Permeke surtout. Grand coloriste, brillant dessinateur, Wyckaert peint ce qu'il voit, ce dont il se souvient. Il a radicalisé la leçon de Kandinsky : couleur et forme opèrent une refonte du motif jusqué à le rendre méconnaissable et révéler la puissance de la peinture elle-même. D'ailleurs, il choisit généralement de peindre ce qu?il y a de plus évanescent, de plus changeant : un nuage, la composition atmosphérique, le feuillage d?un arbre. On le qualifie souvent de paysagiste. Mais c'est oublier la présence humaine, celle du marcheur, voire du psychogéographe, et la figure en négatif qui habite malgré tout les toiles au format "portrait" L'ouvrage propose une traversée dans cet empire de la couleur, énergique et structurante, quand d?autres toiles sont empreintes d'une profonde mélancolie.
Boeknummer: 39505 | Prijs: EUR 59.95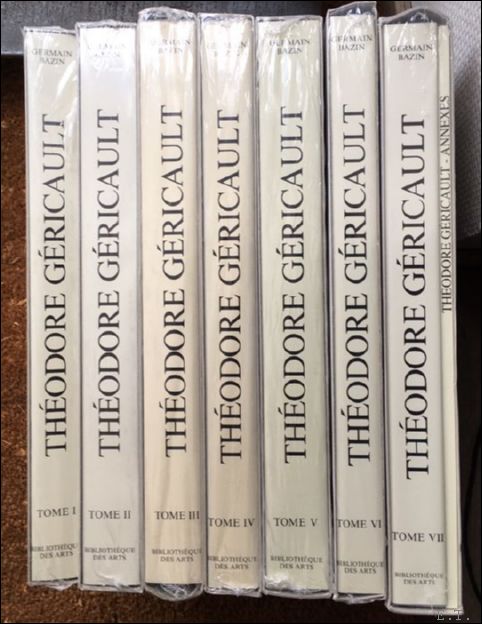 Germain Bazin
Théodore Géricault. Étude critique, Documents et Catalogue raisonné - 7 volumes - 1987/1997
Wildenstein Institute / Bibliothèque des Arts, 1987-1997. Catalogue raisonné in seven volumes in paperback, new, in original shrink-wrap.
Catalogue raisonné in seven volumes, including a volume dedicated to the raft of the Medusa and the monomaniacs. These works, along with a booklet of annexes, resulted to identify, analyse and comment on the complete works of Théodore GÉRICAULT (1791-1824), precursor of romanticism because of his interest in the drama and his personal distance for academic art. Volume I : L'Homme. Biographie, témoignages et documents, 1987. 231 p., 186 fig. black and white, 8 pl. colour Volume II : L'oeuvre : période de formation, 1987. 525 p., 585 fig. black and white, 11 pl. colour Volume III: La Gloire de l'Empire et la première Restauration, 1989. 265 p., 439 fig. black and white, 13 pl. colour Volume IV Le Voyage en Italie, 1990. 242 p., 401 fig. black and white, 15 pl. colour Volume V: Le Retour à Paris : synthèses d'expériences plastiques, 1992. 332 p., 497 fig. black and white, 17 pl. colour Volume VI : Génie et folie. Le Radeau de la Méduse et les monomanes, 1994. 196 p., 198 fig. black and white, 24 pl. colour Volume VII : Regard social et politique : le séjour anglais et les heures de souffrance. Accompanied by a booklet: Annexes to the seven volumes of the catalogue, 1997. 301 p., 658 fig. black and white, 17 pl. colour The books are paperback, new, in original shrink-wrap
Boeknummer: 50883 | Prijs: EUR 999.00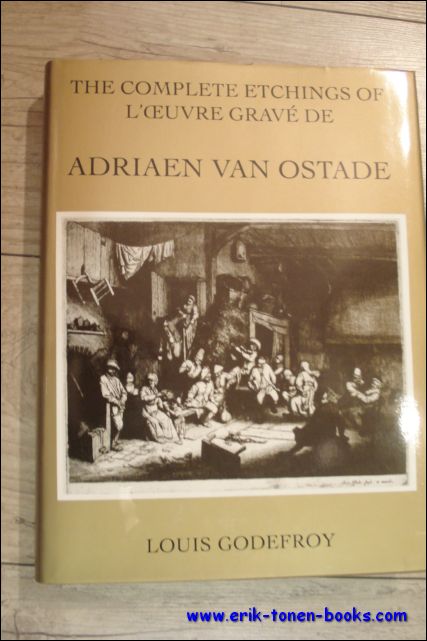 Godefroy, Louise.
The Complete Etchings of Adriaen van Ostade. L ' Oeuvre gravé de Adraen van Ostade.,
Amsterdam, Meulenhoff/Landshoff, 1990. hardcover with Pictorial dusjacket, 210 x 280mm.4to, 180pp., 172, 87 (and ± 200 pp. without pagination. profound b/w illustration.With 381 illustrations. A fine copy! ISBN: 9029082402
Text in English, Catalogue raisonné des gravures de van Ostade
Boeknummer: 16982 | Prijs: EUR 100.00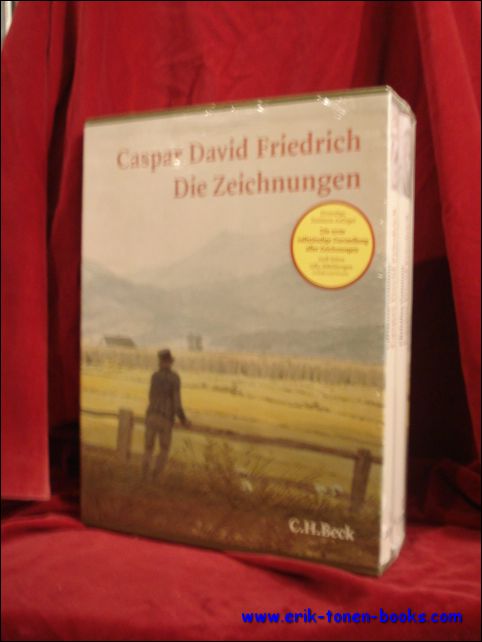 Grummt, Christina
Caspar David Friedrich: Werkverzeichnis der Zeichnungen / Caspar David Friedrich, Die Zeichnungen - Das gesamte Werk
C.H.BECK, 2011. 1008 S.: mit 1.284 Abbildungen in Duoton und in Farbe. 2 Bände im Schmuckschuber neu !. ISBN: 9783406619052
Caspar David Friedrich (1774?1840) gilt als der bedeutendste Künstler der deutschen Romantik. Erstmals liegt mit dieser lange erwarteten Publikation das umfassende Standardwerk sämtlicher Zeichnungen Friedrichs vor. Die Zeichnungen Caspar David Friedrichs, vorrangig Natur- und Landschaftsstudien, faszinieren durch die Feinheit und Akribie ihrer Ausführung. Berühmte Ölbilder wie ?Kreidefelsen auf Rügen? werden in beeindruckender Weise durch filigran ausgearbeitete Bleistiftzeichnungen und Aquarelle vorbereitet. Der zweibändige, opulent ausgestattete Katalog sämtlicher Zeichnungen Friedrichs ermöglicht erstmals einen fundierten chronologischen Überblick über die zugeschriebenen Werke. Die Katalognummern verzeichnen jeweils sämtliche technische Daten sowie die wichtigen Angaben zu Provenienz, Ausstellungen, Literatur und Verbleib. Im Anhang werden schließlich Fehlzuschreibungen bzw. nicht nachweisbare Arbeiten aufgelistet. Das ansprechende Layout und extra große Format machen das Werk zu einem ästhetisch besonders eindrucksvollen Buch-Ereignis.
Boeknummer: 33544 | Prijs: EUR 199.00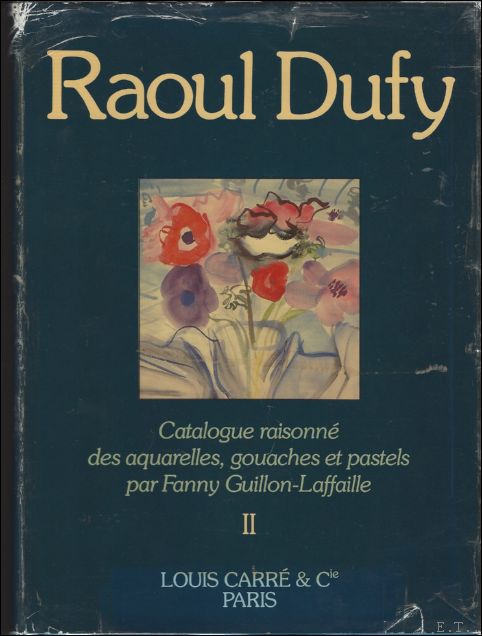 Guillon-Laffaille, Fanny
Raoul Dufy: Catalogue raisonne des aquarelles, gouaches et pastels. Volume 2
Paris: Louis Carre,, 1982. Hardcover with dusjacket, 437 pages with illustrations. col. & b/w pls. .
Catalogue raisonne des aquarelles, gouaches et pastels. Volume 2 only
Boeknummer: 50642 | Prijs: EUR 495.00
Jackson Pollock
Jackson Pollock: A Catalogue Raisonne of Paintings, Drawings and Other Works 4 volumes
Yale University, 1978. 4 volumes in slipcase, 1228 pages, in very fine condition !. ISBN: 9780300021097
THIS IS THE FULL FOUR VOLUME SET. Yale University Press, New Haven, 1978. Good condition. 1st. Hardcover. Four volumes ; Catalogs and describes all then known works of art by Pollock including paintings, drawings, sculpture, collages, prints and painted ceramics. 1,180 pages with mostly b&w illustrations, 45 plates in color.
Boeknummer: 51877 | Prijs: EUR 750.00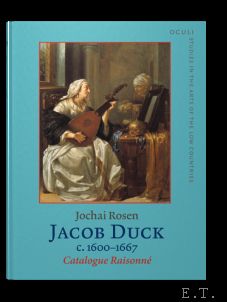 Jochai Rosen
Jacob Duck (c.1600-1667) Catalogue Raisonné
University of Haifa, 2017. Hardcover with dusjacket, 294 pp., 120 bl/wh ills. + 151 full color ills. ISBN: 9789027249685
The painter Jacob Duck (c.1600-1667) was active mainly in Utrecht, and his rise to success and recognition paralleled the phenomenon known as the Dutch Golden Age. His style of painting is a unique blend of the humor and eroticism found in the works of the Utrecht Caravaggisti with that of the Haarlem painters of Merry Company scenes. He painted mainly genre themes and was a central contributor to the rise and assimilation of both the Guardroom and the Brothel Scene. His paintings are striking due to their high level of theatricality, humor and sexual innuendo, traits he bestowed upon the following generation of Dutch genre painting. This book is the first ever monograph study of Jacob Duck and includes a complete critical catalogue of all his known works of art.
Boeknummer: 50043 | Prijs: EUR 230.00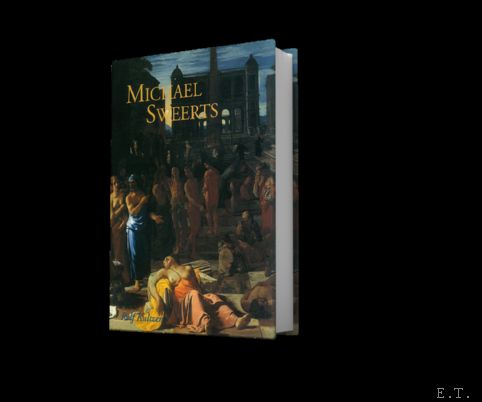 Kultzen, Rolf, Translated and edited by Diane L. Webb.
Michael Sweerts (1618-1664): a full catalogue raisonnée,
Aetas Aurea, Vol. XII, 1996. Cloth bound with dusjacket, as new !! 1996. 4to. 184 pp. text includ. a full catalogue raisonnée, 31 colorplts., 230 ills. on 187 plts. in b/w. ISBN: 9070288168
The long-neglected seventeenth-century Flemish artist Michael Sweerts has been described by art historians as an "enigmatic Dutch Le Nain". Nothing is known about him from the time of his birth in Brussels until his arrival in Rome at the age of twenty-eight. This book traces Sweerts' artistic development: his years in Rome, his return to Brussels to found a drawing academy, his subsequent move to Amsterdam, and finally his decision, towards the end of his life, to join a French missionary society and travel to the Far East.Sweerts' idiosyncratic methods reveal a continual struggle to reconcile the academic principles he so willingly adopted with the Dutch art of his Netherlandish contemporaries in Rome, especially the Bamboccianti. He seems to have been constantly influenced by French art as well, in particular by the Le Nain school. After his return to Brussels, elements typical of Flemish portraiture can be seen in his work, and his subsequent stay in Holland exposed him to contemporary Dutch tastes in portrait painting, to which he increasingly devoted himself. In later years his religious fervour hampered his ability to function in society and perhaps had an adverse effect on his artistic output as well. His constant vacillation between accepted schools - academicism versus genre painting, for example - eventually led him to develop an eclectic but alluring style which was all his own.
Boeknummer: 15138 | Prijs: EUR 399.00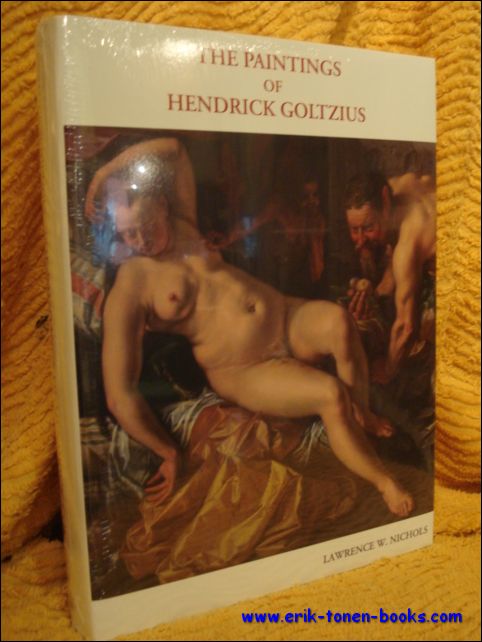 Lawrence W. Nichols.
THE PAINTINGS OF HENDRICK GOLTZIUS (1558 - 1617) A Monograph and Catalogue Raisonné.
Davaco, 2013. Cloth bound with dust jacket, 4to. 466 pp. text, 207 plates and ills. (145 in colour). ISBN: 9789070288281
This long-awaited volume is a comprehensive study of the paintings of Hendrick Goltzius (1558-1617), the most important artist in the Netherlands at the turn of the seventeenth century. A poem published in Haarlem in 1617 lamented the death that year of the most artful master Hendrick Goltzius, in his life [a] skillful painter, draftsman, and artful engraver. The fact that "painter" heads the list of his accomplishments is significant, for although Goltzius enjoyed international fame as a draughtsman and engraver, to his contemporaries he was equally renowned for his skill in the art of painting, which was considered the highest artistic calling. This volume on his paintings, the first since Hirschmann's short study of 1916, finally completes a full assessment of this artist of Haarlem, whose drawings were the subject of Reznicek's publication of 1961 and whose prints were catalogued by Leesberg in the New Hollstein series that appeared in 2012. Goltzius abandoned his engraver's burin and turned to painting in the year 1600. Exploring the new medium, he worked on small coppers, as well as large canvases and panels. Goltzius's determination to work in oil, after acquiring international fame as a printmaker, was a deliberate decision to embrace an even greater challenge and to seek greater recognition for his artistry. Although archival records show that Goltzius painted more portraits than has previously been assumed, it was the depiction of the human nude that was his primary goal. He mostly chose to paint biblical and mythological themes: the same subject matter, in fact, that he had treated in his engraved histories. The difference, however, was that Goltzius now began to paint figures that were nearly life-size. His manner of depicting figures may be considered an extension of what he had learned during his stay in Rome (1590-91) and subsequently pursued in his prints of the 1590s. Only rarely are traces of his Spranger-inspired, anti-classical past encountered in his paintings. Instead, Goltzius strove with his brush to portray human forms at once idealized and naturalistic. His points of departure were antique Roman sculpture, the sixteenth-century masters - Michelangelo, Raphael, Titian, Veronese, Dürer, and Van Heemskerck - and Rubens, his contemporary. Four chapters are dedicated to a consideration of the reasons for Goltzius's conversion to painting, his biography in the years 1600 to 1617, an examination of the style and iconography of his works in oil, and a thorough review of the critical appraisal of his paintings from his day to the present. The extensive catalogue discusses 59 paintings by Goltzius, and also includes 160 pictures known only from descriptions and 38 rejected works. A lengthy appendix - the result of extensive archival research - includes, in the original language, all known sources that mention Goltzius and every known inventory listing of his paintings.The catalogue of accepted works is ordered iconographically, whereas the color plates of Goltzius's entire extant oeuvre are arranged in chronological order, visually demonstrating the development of his career as a painter. In addition to the color plates, 121 black-and-white figures provide material for comparison. A complete bibliography and three indexes enhance the accessibility and usefulness of this volume.
Boeknummer: 40407 | Prijs: EUR 299.00
Loffler, Fritz;Dix, Otto
Otto Dix, 1891-1969: oeuvre der Gemalde.
Verlag Aurel Bongers, 1981. Hardcover with dusjacket, 328 numbered pages, with numerous full-pages plates in color and B&W. German Edition only. ISBN: 3764703296
This is a catalogue raisonné of the works of Dix, a monograph giving a comprehensive list of artworks by the artist
Boeknummer: 50035 | Prijs: EUR 135.00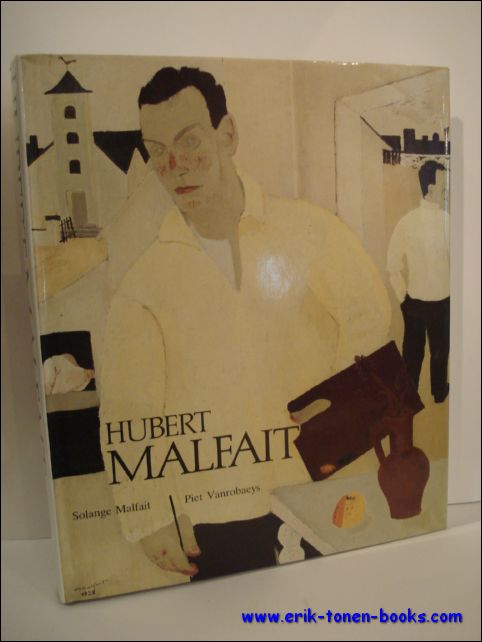 MALFAIT, Solange en VANROBAEYS, Piet.
HUBERT MALFAIT. OEUVRE-CATALOGUS.
Tielt, Lannoo, 1986. Gebonden, bruine linnen met opdruk, originele uitgeversomslag met flappen in kleur, 283pp., 25.6x29.7cm, geïllustreerd in zwart/wit. ISBN: 9020913840
Teksten en catalogus van Piet Vanrobaeys, wedersamenstelling van het oevre door Solange Malfait
Boeknummer: 24213 | Prijs: EUR 125.00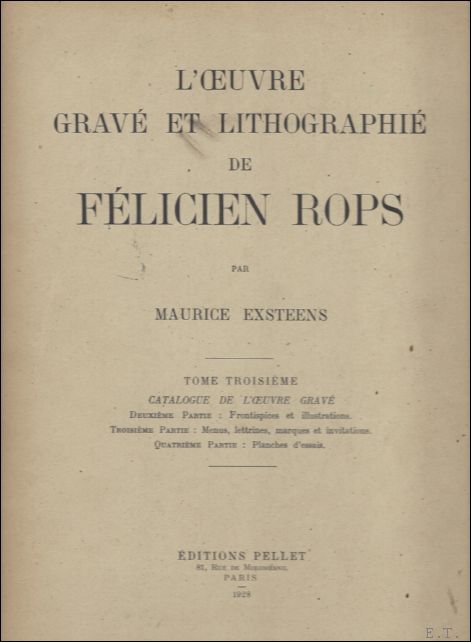 Maurice Exsteens.
L'Oeuvre gravé et lithographié de Félicien Rops; 4 volumes catalogue raisonné.
Paris, Editions Pellet., 1928. 2 Demi reliure, Grand in 4°.Tirage à 550 exemplaires numérotés. Notre exemplaire potrtant le numéro 165.
publication de Maurice Exsteens formant le catalogue raisonné, définitif , de l'oeuvre de Félicien Rops et décrivant 1193 numéros intégralement reproduits. Tome I : Catalogue de l'oeuvre lithographié. Tome II : Catalogue de l'oeuvre gravé - Premère partie : Oeuvres et compositions. Tome III : Catalogue de l'oeuvre gravé - Deuxième partie : Frontispices et illustrations. - Troisième partie : Menus, lettrines, marques et invitations. - Quatrième partie : Planches d'essais. Tome IV : Catalogue de l'oeuvre gravé. Cinquième partie : Planches libres. Catalogue des reproductions. Tables alphabétique des planches décrites. ** le volume rare ; le volume 5, il n'y a pas ( pornographique)
Boeknummer: 50398 | Prijs: EUR 750.00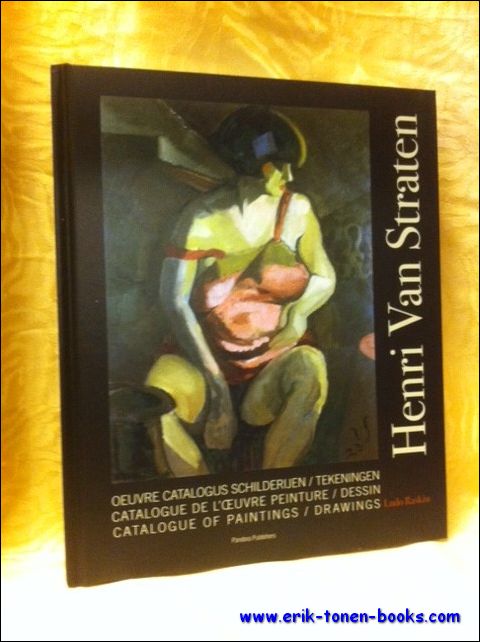 Raskin, Ludo.
Henri Van Straten Oeuvre catalogus schilderijen / tekeningen - catalogue de l'oevre peintre / dessin - catalogue of paintings / Drawings
BE -, Pandora, 2015. Gebonden, Hardcover, 207 pagina's , illustraties in kleur, catalogue raisonné ISBN: 9789053253892
Na de oeuvrecatalogus van het houtsnijwerk heeft Ludo Raskin, uitgegeven bij Pandora in 2002, nu alle tekeningen en schilderijen van Henri Van Straten voor het eerst samengebracht in een nieuwe uitgave. Henri van Straten is vooral gekend als houtsnijder. Hij was de vaste boekillustrator van Willem Elsschot en vormde, met Masereel, Jan-Frans en Jozef Cantré en Minne, de bekende Vijf, die na W.O.I de Vlaamse houtsnijkunst renoveerden. Henri van Straten was echter ook een begenadigd tekenaar en schilder, dit boek brengt dit minder gekende aspect van deze kunstenaar. Oeuvre catalogus schilderijen / tekeningen - catalogue de l'oevre peintre / dessin - -catalogue of paintings / Drawings and
Boeknummer: 47705 | Prijs: EUR 49.00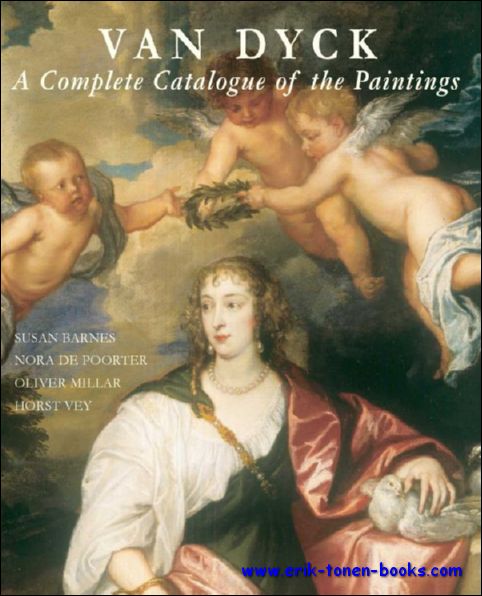 Susan J. Barnes, Nora De Poorter, Oliver Millar, and Horst Vey
Van Dyck, A Complete Catalogue of the Paintings. catalogue raisonné.
Yale University, 2004. Hardcover in dusjacket, 706pp, 633 b/w + 202 color illus. catalogue raissoné. ISBN: 9780300099287
Sir Anthony Van Dyck (1599?1641) is among the greatest portrait painters of all time. The 1990s opened and closed with major exhibitions devoted to his work, and now the long-awaited catalogue raisonné of his painted oeuvre is complete. A native of Antwerp, Van Dyck also lived and worked for long periods in Italy and England, where his brief, productive life ended. He is best known for his work at the court of Charles I. His full-length portraits of aristocrats in the Caroline court and in Genoa, Antwerp, Brussels, and The Hague influenced the history of Western portraiture into the twentieth century in the work of John Singer Sargent. Handsomely designed and illustrated, the volume includes a reproduction of every known authentic painting by the artist as well as the provenance and the significant facts and literature on each. This catalogue raisonné is, fittingly, the collaborative work of an international team devoted to the study of this major international artist. Susan J. Barnes, an independent art historian, co-curated a Van Dyck exhibit in Washington, D.C., 1990. Nora De Poorter is director of the Rubenianum, Antwerp. Oliver Millar, Surveyor Emeritus of The Queen?s Pictures, organized an exhibition of Van Dyck?s English work at the National Portrait Gallery, London, 1982?83. Horst Vey, former director of the Kunsthalle, Karlsruhe, is author of the standard work on Van Dyck?s drawings.
Boeknummer: 46896 | Prijs: EUR 149.90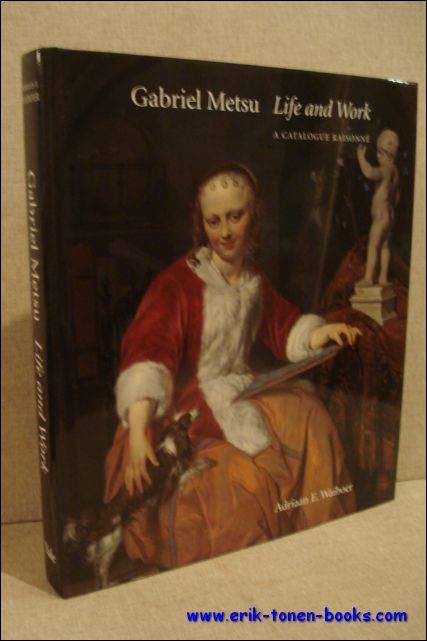 WAIBOER, Adriaan E.;
GABRIEL METSU. LIFE AND WORK. A CATALOGUE RAISONNE,
New Haven / London, Yale University Press, 2012. Bound, black cloth, illustrated dustjacket in colour, 245 x 290mm., 398pp., 78 color and 170 b/w illus. fine condition. ISBN: 780300170481
Despite his untimely death in 1667 at the age of thirty-seven, Gabriel Metsu left an astounding collection of history paintings, portraits, still lifes, and exquisite genre scenes. These charming depictions of kitchen maids, elegant young ladies, hunters, drinkers, and amorous couples have gained Metsu a place among the most celebrated painters of 17th-century Holland. His work ranges from group portraits of the families of wealthy merchants, to wistful portraits of single women and bustling genre scenes of markets and taverns. Meeting the demands of the early Dutch art market, Metsu mastered a number of different artistic styles. However, Metsu's biography has remained largely enigmatic. This absorbing book provides insight into his life and details the network of personal and professional connections that influenced him. Following the successful exhibition of the artist's work last year, this book promotes greater understanding of the full range of Metsu's career, and the catalogue raisonné provides a detailed and informative record of his entire known oeuvre.
Boeknummer: 37674 | Prijs: EUR 79.00
Naar boven