Histoire Beglique
5 livres trouvéz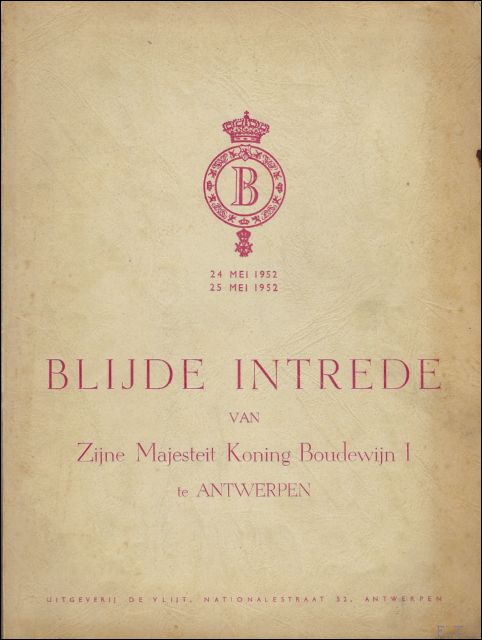 --
Blijde intrede van zijne majesteit Koning Boudewijn I te Antwerpen 24 mei 1952-25 mei 1952
Antwerpen : De Vlijt, 1952. Oorspronkelijk uitgevers omslag, 96 p. : ill. z/w.
Référence: 54111 | Prix: EUR 15.00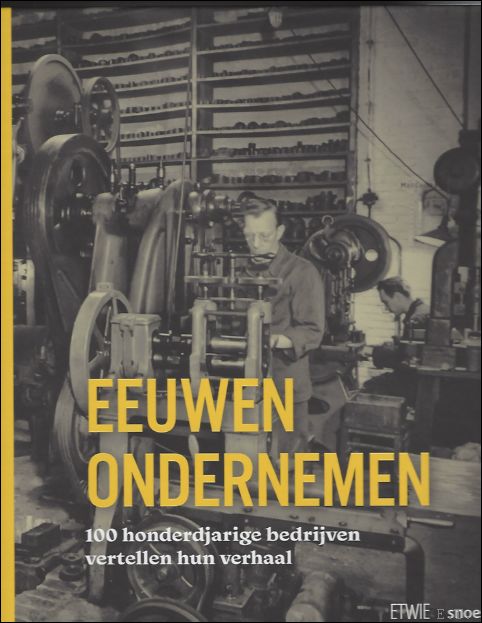 Expertisecentrum voor Technisch
Eeuwen ondernemen 100 honderdjarige bedrijven vertellen hun verhaal.
SNOECK, 2017. Hardback, 280x235mm, 240p, 300 bw and col. illustrations. Dutch (NL) edition . ISBN: 9789461614124
Vlaanderen en Brussel zijn rijk aan bedrijven die al meer dan honderd jaar bestaan. Doorheen de jaren zijn deze ondernemingen er telkens in geslaagd de grote uitdagingen het hoofd te bieden: wereldoorlogen, economische crisissen, globalisering, snelle technologische evoluties... Achter de poorten van hun fabriekshallen en de deuren van hun kantoren gaan dan ook interessante verhalen schuil. Honderd ondernemingen doken in hun archieven en stellen u in dit boek hun geschiedenis voor in woord en beeld: verrassende verhalen en anekdotes, gecombineerd met schitterend beeldmateriaal uit de oude doos. Hoe is het bedrijf ontstaan en welk parcours heeft het sindsdien afgelegd? Zijn er nog sporen van dit verleden bewaard gebleven? Historische documenten, reclame, foto?s, maar ook oude machines, gereedschap, technieken of gebouwen: stuk voor stuk zijn het getuigen van het levensverhaal van de onderneming.
Référence: 50759 | Prix: EUR 28.00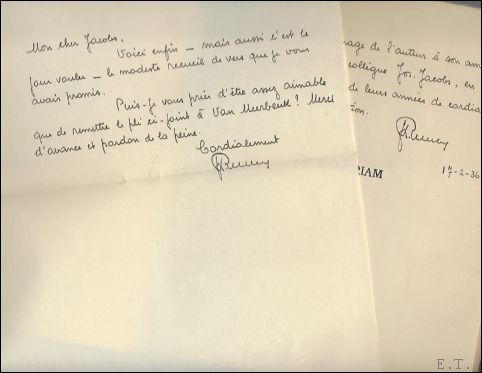 Francois-Xavier Reculez
In memoriam a la pieuse memoire de mon roi venere S.M. Albert 1er, 17-22 fevrier 1934
Anvers, Van Dieren & Co., 1934. cartonnage illustre de l'editeur, .
avec un lettre original
Référence: 50626 | Prix: EUR 45.00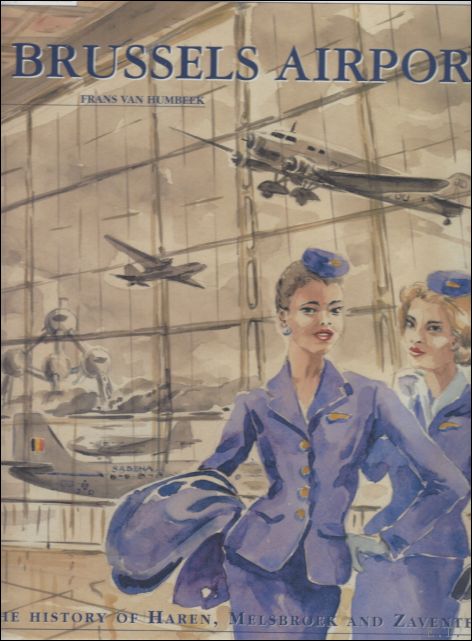 Humbeek, Frans Van
Brussels Airport: The History of Haren, Melsbroek and Zaventem * SIGNED.
Nieuwkerken-Waas, Het Streekboek, 2002. Hardcover ; in printed hardboard , 232 pages, illustrated in b&w and colour. English text. Fine condition . *** Signed en inscription by the author Van Humbeek. ISBN: 9076495033
Since 1979, Frans Van Humbeek has been working on the airport with handling agent Aviapartner. Throughout the years, the author has gathered a vast and unique collection of aviation documents and photographs. Today he is considered an authority on the rich history of Belgian aviation. In 1998 he published ?Het Vliegveld van Grimbergen in de Tweede Wereldoorlog?, a book on the role of Grimbergen airfield in the Second World War. The author is a member of the Belgian Aviation History Association and of the Belgian Association of Journalists of the Periodical Press. He wrote valued contributions for several aviation magazines. In the present book the author paints a picture of the history of the national airport. The opening scene shows the construction of the Zeppelin hangar on the airfield of Haren/Evere by the German forces. Shortly after World War I, civil aircraft started to use the airfield. The first actual airport terminals, still looking much like train stations, appear in the early Twenties. Then, after World War II, aviation activities are gradually moved to the airfield of nearby Melsbroek. At the occasion of the Brussels World Exhibition in 1958, the construction of a contemporary passenger terminal brings Zaventem into the league of the top airports in the world. On 12th December 1994, King Albert II officially opens a new passenger terminal and pier B. The book recalls the turbulent autumn of 2001 and ends with the new pier A, a masterpiece of functional architecture to be used by Schengen passengers. The reader is taken from the dark days of the First World War to arrive in one of the world?s most modern airports, built for a new and promising millennium.
Référence: 53249 | Prix: EUR 99.00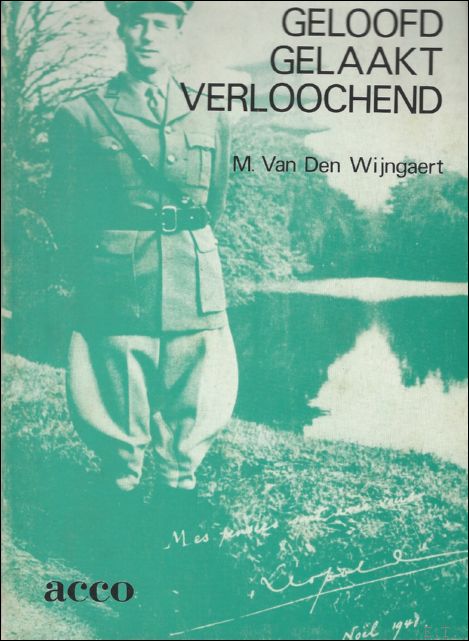 van den Wijngaert, Mark.
Een koning geloofd, gelaakt, verloochend; de evolutie van de stemming onder de katholieke bevolking ten aanzien van Leopold III tijdens de bezetting (1940-1944); DEEL. 1; De; evolutie van de katholieke opinie + DEEL 2 ; Tabellen
1984. Oorspronkelijk uitgevers omslag, twee delen, 71 pp +135 pp. set compleet. ISBN: 9033410168
Mark Van den Wijngaert is emeritus hoogleraar Hedendaagse Geschiedenis aan de HUBrussel. Hij publiceerde over de Duitse bezetting, de Belgische politieke geschiedenis, de internationale geschiedenis en de Belgische monarchie. Van zijn hand verschenen onder meer Een koningsdrama: de biografie van Leopold III (2001), Belgie zonder koning:1940-1950 (2006), Vrouwen naast de troon: de koninginnen van Belgie (2009), Koning Albert II: de biografie (2013) en Koning Filip: de biografie (2013). De media doen vaak een beroep op zijn kennis van het Belgische koningshuis.
Référence: 50606 | Prix: EUR 30.00
Aller en haut