Spaanse kunst
11 boeken gevonden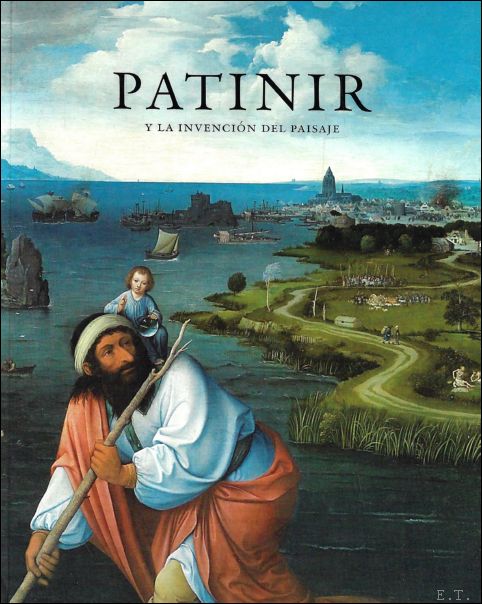 ALEJANDRO VERGARA
Patinir y la invension del paisaje / Patinir and the Invention of Landscape
Museo Nacional del Prado, 2007, 2007. 1. Paperback, 55 paginas, Spanish English , Illustraciones,.240 X 190 X 10 mm ISBN: 9788484801214
Joachim Patinir, que trabajó en Amberes entre 1515 y 1524, fue el primer artista europeo especializado en pintar paisajes. Sus sorprendentes cuadros reflejan la curiosidad por el mundo natural que era característica del Renacimiento, y al mismo tiempo evocan la idea de un universo trascendente. Este documental aborda el enigma de un pintor cuya biografía apenas se conoce, y que revolucionó el mercado del arte e incluso el concepto mismo de la pintura en los albores del siglo XVI. Como conservador del Museo del Prado, Alejandro Vergara ha sido responsable de una gran exposición retrospectiva de su obra (3 de julio - 7 de octubre de 2007) que le ha llevado a buscar sus pinturas por diversos museos del mundo. A través de sus viajes y de diversos encuentros con expertos, Vergara investiga las claves de la pintura de Patinir. El análisis y la reflexión que se ofrecen al espectador le guían en el conocimiento de una bellísima y casi desconocida producción.
Boeknummer: 54776 | Prijs: EUR 200.00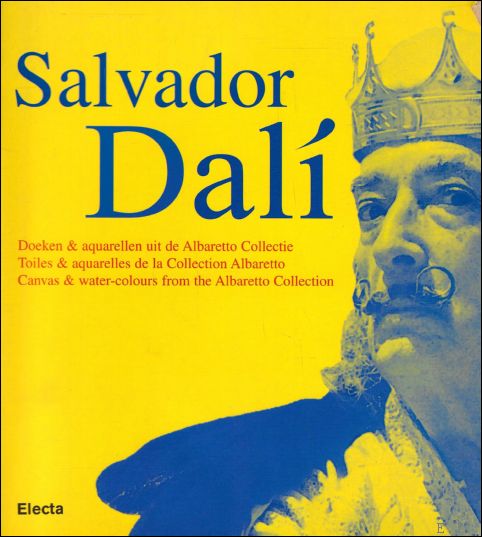 collectif
Salvador Dali: doeken en aquarellen uit de Albaretto Collectie
Electa, 1997. 1. Paperback, 197 pag. NL / ENG / FR, 240 x 220 mm, illustr. in kleur / z/w***in colour / b/w***a couleur / n/b. ISBN: 9788843562145
Boeknummer: 61951 | Prijs: EUR 25.00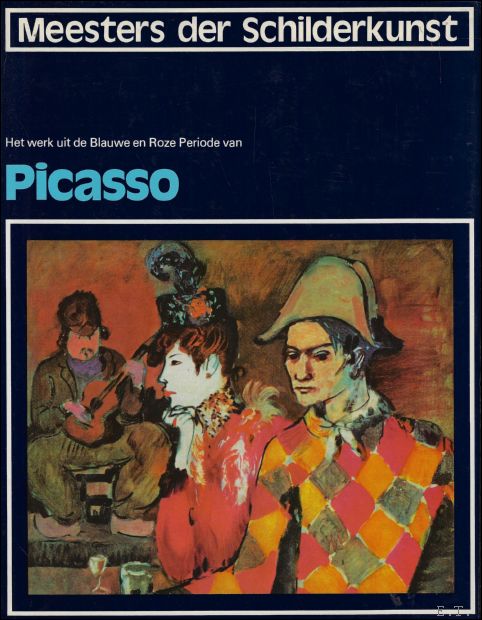 Dony, Frans L.M.
PICASSO - Het werk uit de Blauwe en Roze Periode (alle tot nu toe bekende schilderijen en bijbehorende studies)
Lekturama, 1979. In zeer goede staat. Hardcover met stofomslag. Rijkelijk geïllustreerd. Groot boek., 310 x 240 mm.
Boeknummer: 60835 | Prijs: EUR 15.00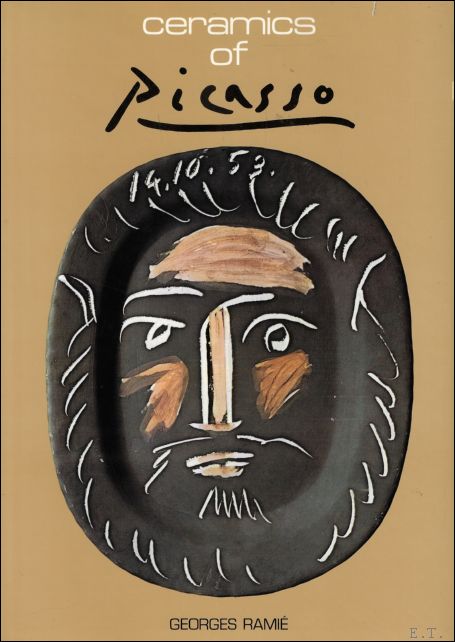 Georges Ramie ; Pablo Picasso
Ceramics of Picasso
Ediciones Poligrafa, 1985. 1. Hardcover, 128 pages, ENG, 305 x 215 x 20 mm, dustjacket, in perfect condition, illustrated in colour. ISBN: 9788434304246
The potter who was Picasso's collaborator offers an examination of the different phases of the renowned artist's work, follows Picasso's evolution in the medium, and views Picasso's ceramic output as a whole.
Boeknummer: 60958 | Prijs: EUR 55.00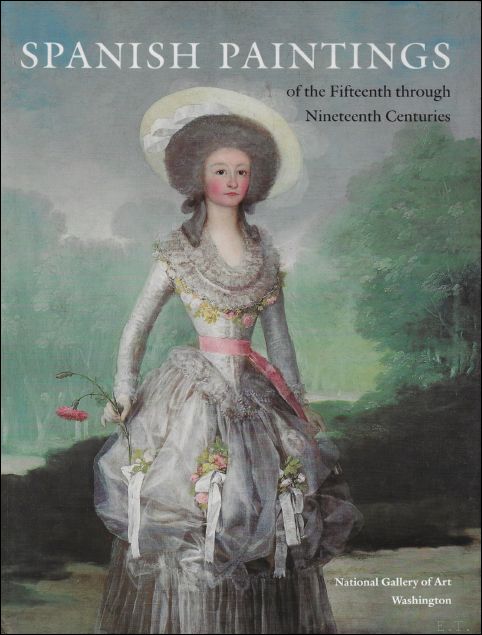 Jonathan Brown, Richard G Mann
Spanish Paintings of the Fifteenth Through Nineteenth Centuries
Princeton University Press, 1990. 1. Hardcover, 165 pages, ENG, 290 x 225 mm, dustjacket, as New !, with illustrations in colour / b/w. ISBN: 9780521401074
The National Gallery's collection of Spanish paintings is distinguished by seven of El Greco's works from every period of his activity in Italy and Spain; Diego Velázquez' work on an intimate scale; Bartolomé Esteban Murillo's images addressing both the sacred and profane; and seven of Francisco de Goya's incisive portraits of Spain's aristocratic and intellectual society. Also included are two panels by the Master of the Catholic Kings, which represent Hispano-Flemish painting of the late fifteenth century at its best.
Boeknummer: 60172 | Prijs: EUR 95.00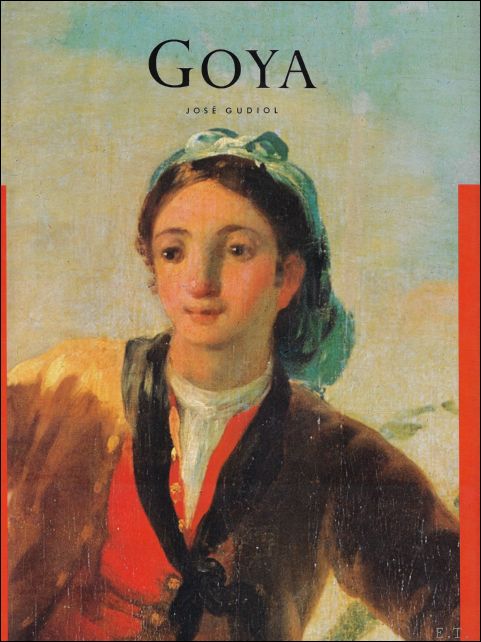 Jose Gudio
Goya
Harry N. Abrams, 1985. 1. Hardcover, 128 pages, ENG, 310 x 235 x 20 mm, dustjacket, illustrated in colour / b/w, in good condition. ISBN: 9780810909922
With black-and-white and over forty color plates, accompanied by a scholarly commentary on Goya's development as a man and an artist.
Boeknummer: 61432 | Prijs: EUR 30.00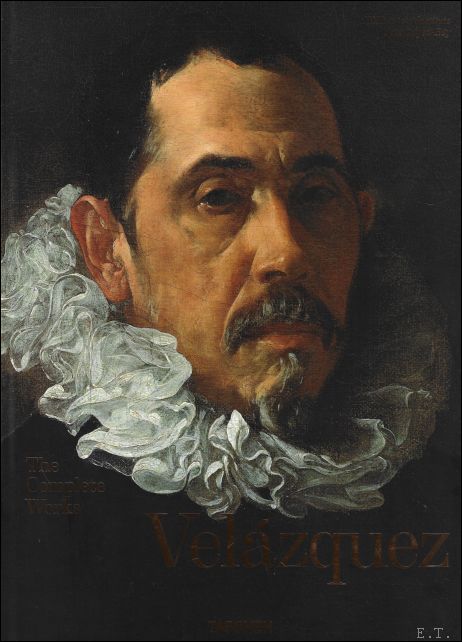 Jose Lopez-Rey , Odil Delenda ; translation : Malcolm Imrie
Velazquez : The Complete Works
Taschen, 2014. 1. Hardcover, 418 pages, ENG, 405 x 300 x 45 mm, as New !, dustjacket, XX Large Edition, Heavy, Full Page Illustrations in colour / b/w, for protection in a Illustrated sturdy cardboard box ISBN: 9783836550161
Text in English. With a foreword by Guy Wildenstein. This newly-updated catalogue brings together Velazquez's complete works with a selection of enlarged details and brand-new photography of recently restored paintings, achieved through the joint initiative of Taschen and the Wildenstein Institute. The book's dazzling images are accompanied by insightful commentary from Jose Lopez-Rey on Velazquez's interest in human life and his equal attention to all subjects, from an old woman frying eggs to a pope or a king, as well as his commitment to colour and light, which would influence the Impressionists over two centuries later, amongst numerous other artists.
Boeknummer: 61976 | Prijs: EUR 180.00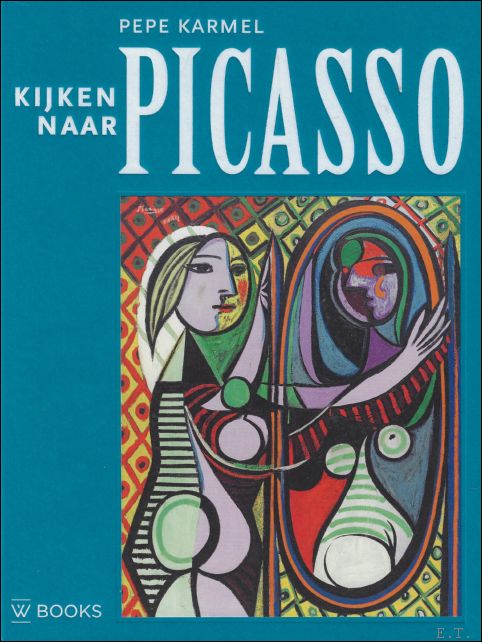 Pepe Karmel
Kijken naar Picasso
WBooks, 2023. 1. Hardcover, 200 pag. NL, 295 x 230 mm, NIEUW, 118 afb. in kleur, . ISBN: 9789462585706
Pablo Picasso was misschien wel de grootste kunstenaar van de twintigste eeuw. Natuurlijk, er waren anderen die net als hij de richting van de moderne kunst veranderden. Wat hem uitzonderlijk maakt is zijn gave om zichzelf steeds opnieuw uit te vinden. De melancholieke poëet van de Blauwe en de Roze Periode werd de onpersoonlijke ingenieur van het kubisme. Kijken naar Picasso biedt een belangwekkend nieuw overzicht van het werk van de kunstenaar. Pepe Karmel negeert in zijn nieuwe boek speculaties over Picasso?s privéleven en richt de aandacht weer op zijn werk, daarbij eens te meer Picasso?s status bevestigend. In helder en toegankelijk proza onderzoekt Karmel Picasso?s werk, in alle expressie, schoonheid en confrontatie. Hij traceert de ontwikkeling van het oeuvre gedurende zeven decennia en toont hoe Picasso nieuwe beelden en thema?s introduceerde die de moderne kunst hebben veranderd. Met meer dan honderd afbeeldingen, ook van beroemde schilderijen als Les Demoiselles d?Avignon en Guernica, en daarnaast van talrijke tekeningen, beelden en grafische werken, biedt Kijken naar Picasso een fris perspectief op de sleutelinnovaties van de kunstenaar, en bovendien een compleet overzicht en volledige analyse van het werk van deze grote meester.
Boeknummer: 62269 | Prijs: EUR 45.00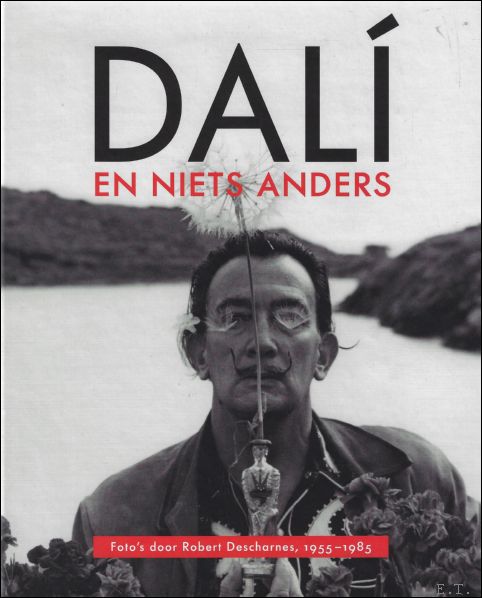 Pere Vehi Cantas ; Nicolas Descharnes
Dali en niets anders : Foto?s door Robert Descharnes, 1955?1985
WBOOKS, 2021. 1. Hardcover, 144 pagina's, NL, 275 x 230 mm, Nieuw, met illustraties in kleur / z/w. ISBN: 9789462584464
Salvador Dalí (1904?1989) was een kunstenaar met een buitengewone persoonlijkheid. Als geen ander verkende hij de grenzen van de kunst. Dalí dacht groots en maakte van zijn leven één groot optreden. Hij was vaak het middelpunt van de aandacht. De bevriende fotograaf Robert Descharnes (1926?2014) legde Salvador Dalí decennialang vast. De foto?s geven een blik in het persoonlijke leven van de wereldberoemde kunstenaar. Ze tonen Dalí in zijn vertrouwde leefomgeving: zoenend met zijn vrouw Gala, tijdens boottochten met vrienden en lezend aan het strand bij Cadaqués. Maar we zien ook een poserende Dalí, de kunstenaar aan het werk en zijn markante, creatieve uitingen. Salvador Dalí leek zich altijd bewust van zijn eigen imago. Het boek laat een sprekende selectie zien van 125 foto?s van Robert Descharnes uit de periode 1955?1985. Twee korte essays plaatsen de foto?s in hun context. De foto?s zijn in deze omvang voor het eerst in Nederland te zien in een tentoonstelling in Het Noordbrabants Museum, waarin naast de foto?s aan de hand van originele tekeningen, schetsen en commerciële opdrachten aandacht wordt geschonken aan Dalí als veelzijdig kunstenaar.
Boeknummer: 60636 | Prijs: EUR 30.00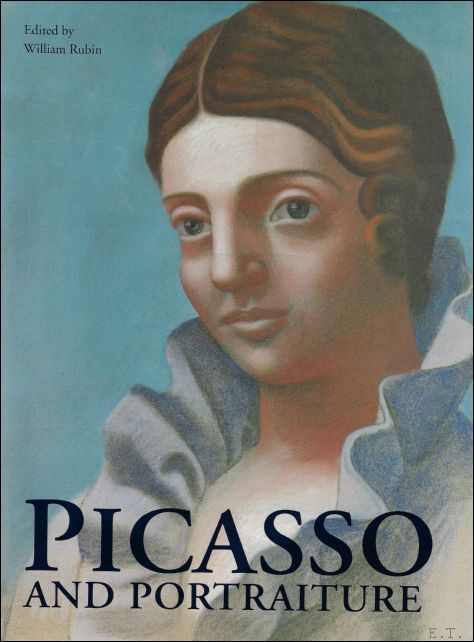 William Rubin , Anne Baldassari
Picasso and Portraiture : Representation and Transformation
Thames & Hudson Ltd, 1996. 1. Hardcover, 495 pages, ENG, 310 x 240 x 45 mm, dustjacket, in Very Good Condition !!, illustrated in colour / b/ w. ISBN: 9780500237243
The first 100 years of modern art witnessed the popularization of photography, the decline of traditional patronage, and an increasing emphasis on abstraction in painting, all of which threatened the survival of portraiture as a genre. It continued to flourish because modern painters - Picasso foremost amongst them - sought and found meaningful new ways to portray the human face. This book focuses on this part of the artist's oevre, reproducing works in oil, gouache, pastel, charcoal and other media to illustrate the solutions Picasso invented to solve the "problem" of the modernist portrait. Published to accompany an exhibition to be shown at The Museum of Modern Art, New York, in 1996, the book contains eight essays examining different periods and aspects of Picasso's career. The personal relationships between Picasso and his subjects are clarified
Boeknummer: 61430 | Prijs: EUR 45.00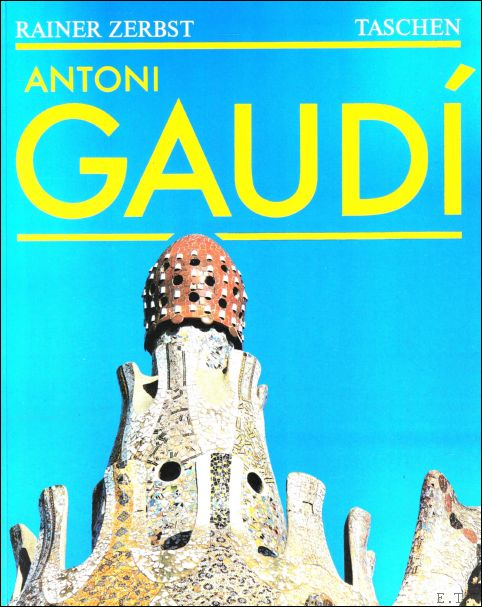 ZERBST, RAINER
Antoni Gaudi i Cornet, 1852-1926. Ein Leben in der Architektur
Taschen, 1987. 1. Deutsch , paperbound, pictorial boards with flaps, large 4to 239 pp., ca. 200 ills. , many fullpage colour. ISBN: 9783822800676
Seine Auseinandersetzung mit gotischen und maurischen Formelementen, die Neigung zu Experimenten und seine oft bizarre Erfindungsgabe führten ihn zu einem sehr persönlichen Stil
Boeknummer: 61534 | Prijs: EUR 20.00
Naar boven