Nieuw binnengekomen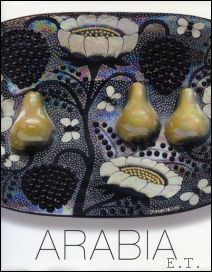 Marianne Aav, Elise Kovanen, Helena Leppanen, Marjut Kumela, Susanna Vakkari, Susann Vihma, Tapio Yli-Viikari. Toimitus: Marianne Aav, Eeva Viljanen, Susanna Vakkari, Merja Vilhunen.
ARABIA, CERAMICS ART INDUSTRY
Designmuseo, 2009.. bound, hardback 315pp. illustre in color.
Founded in 1873, the Arabia factory grew to become one of Europe?s leading manufacturers of modern utility and art ceramics by the middle of the 20th century. In Arabia, Ceramics, Art, Industry, the contributors have placed a particular emphasis on design-related issues. The introductory chapter by Elise Kovanen gives an overview of the Arabia factory and its achievements over the years. Helena Leppanen presents a great deal of hitherto unpublished information on the working methods, techniques, and models of the Arabia decoration department, while Marjut Kumela describes the history of Arabia tableware services from the Asian-influenced revived styles of the 1870s to the incipient modernism of the 1930s and the new challenges brought about by the Second World War. Susanna Vakkari continues the narrative by discussing the design of utilitarian objects from the final breakthrough of modernism to products of the present day. Susann Vihma and Tapio Yli-Viikari analyse the design philosophy of Kaj Franck, who was an important artistic director at Arabia, with particular reference to Kilta and Teema, his best-known tableware services. Marianne Aav explores the output of the Arabia Art Department and its significance for the factory?s image. Each chapter is complemented by illustrations of works by Arabia4s designers. The book includes the Arabia Factory Marks.
EUR 49.90
Naar boven