New arrivals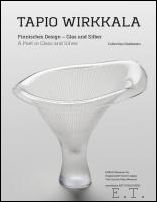 Jack Dawson et al.
TAPIO WIRKKALA A Poet in Glass and Silver
Finnish Glass Museum in Riihimaki, 2016.. Hardcover with dusjacket, 400 pages, 21 x 27 cm, 570 ills., mostly in colour. Hardcover. English / German.
Tapio Wirkkala (1915?1985) was one of the most significant, influential and successful designers of the twentieth century, embodying Scandinavian Design like no other. His designs for the Iittala glass manufacturer and the silversmiths Kultakeskus Oy, which make up the core of his oeuvre, are introduced for the first time in expert articles, historical photographs and a comprehensive catalogue featuring 249 objects in glass and 80 in silver from the exceptional Kakkonen Collection. The author Jack Dawson is a specialist in Scandinavian glass. He curated the comprehensive show of post-war Finnish glass as well as the exhibition Innovation and Diversity: 75 Years of Swedish Art Glass and is the author of the catalogues of both exhibitions. He also lectures on Scandinavian glass worldwide.
EUR 34.50
Aller en haut