Nieuw binnengekomen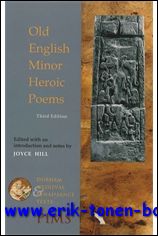 J. Hill (ed.);
Old English Minor Heroic Poems. Third edition,
Turnhout, Brepols, 2009.. Paperback, VIII+131 p., 150 x 230 mm.
The four heroic poems edited here give tantalising insights into the world of Old English heroic poetry: its ideals of behaviour, the role of the poet in establishing heroic reputation, and the rich array of legends which made up a powerful world of the imagination set in the creative ethnicity of a Germanic past. Widsi? and Deor, with their focus on the role of the poet and his command of Germanic legend-cycles, and the two fragmentary survivals of Waldere and the Finnsburh Fragment, with their focus on heroic behaviour, complement the more famous Beowulf, the only Old English heroic epic to survive complete. Together, as this edition makes clear, these unique survivals have the distinction of providing a small window onto a very large world. Languages : English, Old English.
EUR 19.50
Naar boven