Nieuw binnengekomen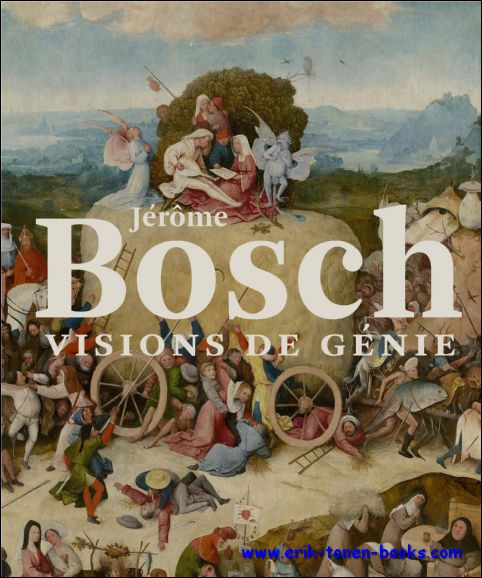 Matthijs Ilsink - Jos Koldeweij
Jerome Bosch Visions de genie.
Fonds Mercator/ Mercatorfonds, 2016.. Paperback, 270x225mm, 192p, 140 colour illustrations, French edition
Expo: 13/2/2016 - 8/5/2016, Noordbrabants Museum, s-Hertogenbosch Jerome Bosch (1450-1516) a vecu et travaille a Bois-le-Duc, ou il a cree des ?uvres enigmatiques peuplees d'etres etranges, de monstres fantastiques et de cauchemars inquietants inspires de ses themes de predilection : la seduction, le peche et le Jugement dernier. Ce magnifique ouvrage parait en marge de la plus grande exposition jamais dediee a son travail. Les six chapitres du livre retracent sa carriere, traitant en details des themes varies comme la Perigrinatio vitae de Bosch, Bosch et la vie du Christ, son role en tant que concepteur d'estampes, ses peintures de saints ou le Jardin des delices. Ce livre, qui a ete supervise par l'equipe du BRCP, est magnifiquement illustre grace a de nouvelles photographies. Hieronymus Bosch (1450-1516) lived and worked in 's Hertogenbosch, The Netherlands, where he created enigmatic paintings and drawings full of bizarre creatures, phantasmagoric monsters, and terrifying nightmares. He also depicted detailed landscapes and found inspiration in fundamental moral concepts: seduction, sin, and judgment. This beautiful book accompanies the largest exhibition ever held on Bosch's work, and will feature important new research on his 25 known paintings and 20 drawings. The book, divided into six sections, covers the entirety of the artist's career. It discusses in detail Bosch's Pilgrimage of Life, Bosch and the Life of Christ, his role as a draftsman, his depictions of saints, and The Garden of Earthly Delights, among other topics, and is handsomely illustrated by new photography undertaken by the Bosch Research and Conservation Project Team. Matthijs Ilsink is project coordinator of the Bosch Research and Conservation Project and teaches at Radboud University, Nijmegen. Jos Koldeweij is professor in art history of the Middle Ages at the University of Nijmegen, the Netherlands. The authors are the curators of the's-Hertogenbosch exhibition.
EUR 27.90
Naar boven