New arrivals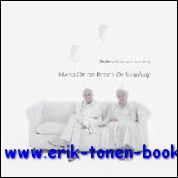 Nicolas De Oliveira, Nicola Oxley.
Hans Op de Beeck: On Vanishing.
Brussels, Mercatorfonds and Xavier Hufkens, 2007.. Hardcover with dustjacket, 368pp., 26.5x28.5cm., lavishly illustr., good copy (some minor traces of use on dj.).
This 368-page artist's book presents a collaboration between the young Brussels-based artist Hans Op de Beeck and authors Nicolas de Oliveira and Nicola Oxley. It collects artworks from the last 10 years alongside texts that generate from questions posed by literary figures like Jorge Luis Borges, Italo Calvino, Georges Perec and Alain Robbe-Grillet.
EUR 125.00
Aller en haut