Neu erworben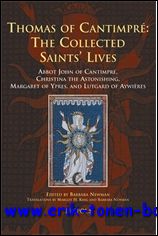 B. Newman (ed.);
Thomas of Cantimpre: The Collected Saints' Lives Abbot John of Cantimpre, Christina the Astonishing, Margaret of Ypres, and Lutgard of Aywieres,
Turnhout, Brepols, 2008.. Hardback, X+324 p., 160 x 240 mm.
This volume contains tranlations of four lively and eventful lives recorded by the Dominican hagiographer Thomas of Cantimpre (c. 1200-c. 1270). The Dominican Thomas of Cantimpre (c. 1200-c. 1270) was a key figure in the 'evangelical awakening' of the thirteenth century. A prolific hagiographer, he lauded such diverse subjects as the abbot and apostolic preacher John of Cantimpre; the teenage saint Margaret of Ypres, an urban recluse who died at 21; Lutgard of Aywieres, a Cistercian nun and mystic; and the theatrical, mentally troubled Christina 'the Astonishing' of St-Trond. Thomas had few peers in portraying the ritual theatre of penance. He gives us such memorable scenes as a naked moneylender led out of a pit by a rope, a formerly rapacious prince kissing his peasants? feet as he restores their stolen goods, St Christina leaping into fires and boiling cauldrons to save souls in purgatory, and the deceased Pope Innocent III in agony, begging St Lutgard for her prayers. In this volume readers will find all four lively and eventful lives between the same covers for the first time. The Life of Abbot John of Cantimpre has been newly translated by Barbara Newman, who has also supplied a new introduction. The other three Lives are reprinted from Margot H. King's Peregrina Translations Series. Languages : English, Latin.
EUR 77.00
Nach oben