Nieuw binnengekomen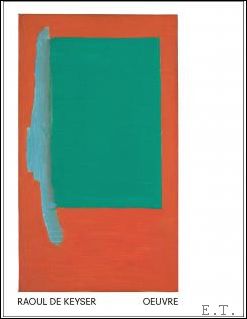 German, Jacobs, Lambrecht, van Cauteren.
Raoul De Keyser Oeuvre (ENG)
SMAK, 2018.. Softcover, PB, 270 x 210 mm, 240 p, 344 illustrations, English Edition.
Raoul De Keyser (1930-2012, Deinze) is tacitly regarded as the grand master of Belgian painters of the past 50 years. After his debut in 1964 he developed a quirky, tactile working method in which the separation between figuration and abstraction dissolves in the poetic connection that the work enters into with the daily life of the artist. The Stedelijk Museum voor Actuele Kunst (SMAK) in Ghent and the Pinakothek der Moderne in Munich organize the first posthumous overview of works made between 1964 and 2012. The exhibition, entitled oeuvre, seeks to provide insight into this process, which is continuously devoted was interrogating and undermining the medium of painting. The extensively illustrated catalog highlights various facets of Raoul De Keyser's oeuvre, including the role of photography and works on paper. Central to the monograph is a well-arranged chronology about the life and work of the artist. In addition to these detailed texts, a number of international artists write a short statement about Raoul De Keyser. The publication is designed by Inge Ketelers, who has collaborated with the artist several times in the past.
EUR 39.90
Naar boven