New arrivals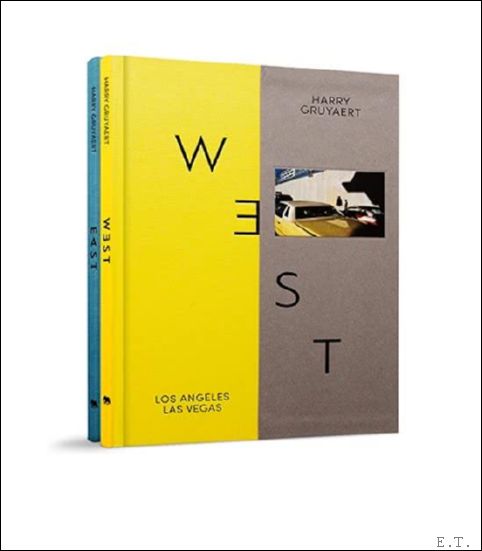 David Campany, Harry Gruyaert.
East/West Harry Gruyaert Fotografie photograpy.
Hannibal Kannibaal, 2017.. Gebonden, Hardcover, 2 volumes in slipcase, 160 pagina's, 30x310x210 mm. Nederlands.
East/West is een tweedelige publicatie waarin beeldmateriaal wordt gebundeld van Magnum-fotograaf Harry Gruyaert, die in de jaren tachtig de markante verschillen in beeld bracht tussen het leven aan de oost- en westkant van het IJzeren Gordijn. Hij deed dat in zijn bekende, mysterieuze stijl, waarbij licht en sensualiteit centraal staan. Het eerste deel toont de zinderende glamour van Las Vegas en Los Angeles in 1981; het tweede deel de koele rigiditeit van het regime in Moskou in 1989, net voor de val van de Sovjet-Unie. Dit boek verzamelt honderd foto's, waarvan meer dan de helft nooit eerder werd gepubliceerd. Het is een verbluffend document, dat de contrasten toont tussen het Oosten en het Westen en een boeiend inzicht geeft in een bevreemdende en zeer cruciale periode uit de wereldgeschiedenis. Met een essay van curator en fotografiecriticus David Campany. /// East/West is a two-part publication that brings together images by Magnum photographer Harry Gruyaert, who in the 1980s depicted the striking differences between life on the east and west sides of the Iron Curtain. He did this in his well-known, mysterious style, in which light and sensuality are central. The first part shows the sizzling glamor of Las Vegas and Los Angeles in 1981; the second part, the cool rigidity of the Moscow regime in 1989, just before the fall of the Soviet Union. This book collects a hundred photos, more than half of which have never been published before. It is an astonishing document, which shows the contrasts between the East and the West and provides a fascinating insight into an astonishing and very crucial period in world history. With an essay by curator and photography critic David Campany.
EUR 75.00
To top