Nieuw binnengekomen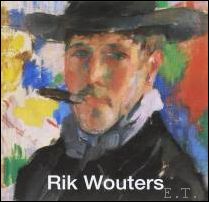 N/A;
Rik Wouters. All the works of Rik Wouters from the collection of the Koninklijk Museum voor Schone Kunsten - Antwerpen,
BAI & Koninklijk Museum voor Schone Kunsten Antwerpen, 2007.. Bound, illustrated cardboard, frontispice in colour, 230 x 225mm., 119pp., profound colour illustration.
Rik Wouters is the most notable Belgian artist of the early twentieth century. He died at the age of only 33, yet his sizeable oeuvre is one of the most beautiful odes to life and love imaginable. Trained as a sculptor at the academies of Mechelen and Brussels, he soon developed a preference for painting and drawing. He was a great admirer of Rodin, Ensor and Cezanne and their influence on his work is unmistakable. In his short life, he worked like a man possessed. He painted, modelled and sketched life as it unfolded around him. The environment where he lived - the forest, the pets, the canals of Amsterdam - was a source of inspiration. But above all else, his wife and favourite model Nel was a constant muse to him. The Royal Museum of Fine Arts in Antwerp possesses some 110 pieces by Rik Wouters : 26 paintings, 19 sculptures and 66 works on paper: drawings in pencil, crayon and ink, watercolours and pastels. New book.
EUR 25.00
Naar boven