Nieuw binnengekomen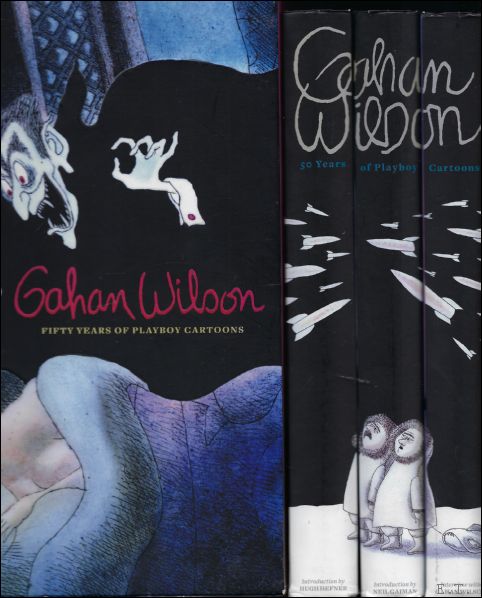 Gahan Wilson & Hugh Hefner
Gahan Wilson 50 Years of Playboy Cartoons, Complete 3-Volume Slipcased Set.
Fantagraphics Books, 2011.. 3 volumes with dusjacket in box.1056 pages, Illustrated. used.
Wilson is among the most popular, widely read, and beloved cartoonists in the history of the medium, whose career spans the second half of the 20th century and all of the 21st. His work has been seen by millions - no, hundreds of millions - in the pages of Playboy (Wilson appeared in every issue of Playboy from the December 1957 issue to today), The New Yorker and many other magazines. Wilson ridicules everything from state sponsored executions to teenage dating with hilarious satirical jabs. Although Wilson is known for his black comedy, this three-volume set truly demonstrates the depth and breadth of his range. Gahan Wilson: 50 Years of Playboy Cartoons is a testament to one of the funniest - and wickedly disturbing - cartoonists alive. It's not only a perfect holiday gift for his legion of fans, but also has crossover appeal to those who favor the darker sensibilities of cartoonists such as Charles Addams or Edward Gorey.
EUR 170.00
Naar boven