Nieuw binnengekomen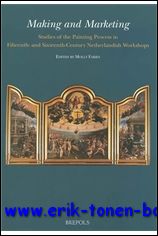 M. Faries (ed.);
Making and Marketing: Studies of the Painting Process in Fifteenth- and Sixteenth-Century Netherlandish Workshops,
Turnhout, Brepols, 2006.. Paperback, VIII+279 pages., 149 b/w ill. + 45 colour ill., 210 x 297 mm.
This volume is about Netherlandish workshop practice from the late fifteenth century to the 1560s. Some articles present the results of new technical studies that are comprehensive in nature, revealing the inter-relationship between prints and painting practices, modes of collaboration, shifts in procedure, the development and use of shop models, and the impact of international commerce. Others present new documentary evidence and new methods of historical statistics revealing trends in workshop size, career trajectories, and immigration. The essays have been collected around the theme of a session on workshop practice organized by Molly Faries for the 2002 Historians of Netherlandish Art International Conference held in Antwerp. Languages : English. Until 31/03/2013 avaialable at 85.00 euro.
EUR 85.00
Naar boven