Nieuw binnengekomen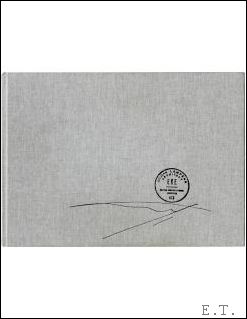 Juliaan Lampens
JULIAAN LAMPENS. 1950-1991 / Special luxe edition with four colour reproductions.
Antwerpen, VAi, 2020.. incl. four high-quality color reproductions, size 28.4 by 19 cm, printed on heavy paper (Malmero 300 gr).HB, 217 x 301 mm, 136 p, throughout b/w illustrations.
E/ F/ NL edition.
New, revised and supplemented edition Juliaan Lampens 1950-1991 is the re-edition of the catalog published by the deSingel Arts Center in 1991. The hand of the master is emphatically present in every facet of this publication, which makes this reference work unique. Lampens helped shape the book, literally and figuratively: he selected text and images, wrote himself and collaborated with the designer. Publications about Juliaan Lampens (1926-2019) are scarce and highly sought after. Interest in this oeuvre has only increased in recent years, also internationally, as evidenced by the issue of the renowned Japanese architecture magazine a + u, dedicated to Lampens. With this re-edition, supplemented with an updated biography, the Flanders Architecture Institute meets an ever-growing demand. Originally untranslated texts were also translated into French and English, so that the reader is offered three equivalent language editions in one volume. incl. four high-quality color reproductions, size 28.4 by 19 cm, printed on heavy paper (Malmero 300 gr).Nieuwe, herziene en aangevulde uitgave Juliaan Lampens 1950-1991 is de heruitgave van de catalogus die Kunstencentrum deSingel in 1991 uitbracht. De hand van de meester is in elk facet van deze publicatie nadrukkelijk aanwezig, en dat maakt dit referentiewerk uniek. Lampens gaf het boek letterlijk en figuurlijk mee vorm: hij selecteerde tekst en beeld, schreef zelf en werkte samen met de vormgever. Publicaties over Juliaan Lampens (1926-2019) zijn schaars en zeer gewild. De belangstelling voor dit oeuvre is de afgelopen jaren alleen maar toegenomen, ook internationaal, getuige het aan Lampens gewijde nummer van het gerenommeerde Japanse architectuurtijdschrift a+u. Het Vlaams Architectuurinstituut komt met deze heruitgave, aangevuld met een geactualiseerde biografie, tegemoet aan een steeds groeiende vraag. Oorspronkelijk onvertaalde teksten kregen bovendien een vertaling naar het Frans en het Engels, zodat de lezer drie evenwaardige taaledities in één volume aangeboden krijgt. incl. vier hoogwaardige kleurenreproducties zijn, formaat 28,4 op 19 cm, op zwaar papier gedrukt (Malmero 300 gr).
EUR 120.00
Naar boven