Nieuw binnengekomen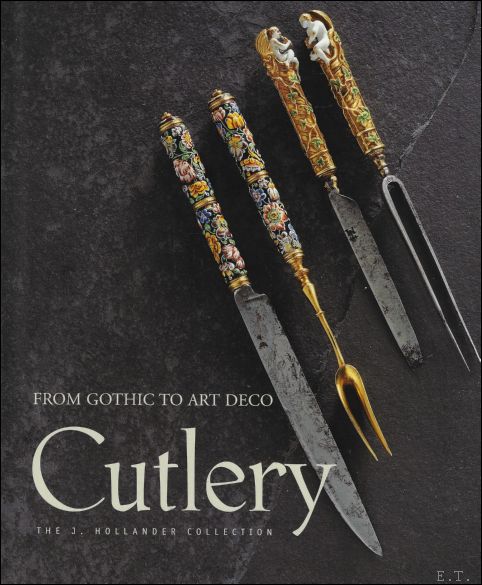 TRIGT, J., VAN.
FROM GOTIC TO ART DECO CUTLERY.
Gent, Pandora/Snoeck-Ducaju & Zn, 2003.. Bound in a yellow cloth with title in gold and gilt spine, originale dust jacket illustrated in color, 25,5x30,5cm, 298pp, illustrated in color.
The J. Hollander collection. The history of tableware and cutlery, illustrated with 600 colour plates and hunderds of silver marks. As new !! Synopsis Our eating culture is dramatically different from that of bygone ages. Eating french fries or hamburgers with plastic forks is a far cry from state dinners in the XVIIIth century with their two dozen courses.The Design Museum Ghent presents the history of cutlery in its various aspects, historical, functional, decorative, with approx. 1,000 pieces from a private collection, reputed the most important worldwide. Materials range from gold and silver to ivory and steel. Several full table settings will also be shown: guests are awaited from the renaissance, baroque, rococo, art nouveau and art deco periods.The publication (in English with a separate 16pp leaflet in Dutch listing all the exhibits) shows in about 500 full colour plates the highlights of the collection. The technical pages illustrate the various silver marks and blad markings.Onze hedendaagse eetcultuur verschilt grondig van die van onze voorouders. Hamburgers eten met plastic vorkjes is nu eenmaal niet te vergelijken met een 18de-eeuws galadiner met 24 gangen. Niet alleen de inhoud van de maaltijden is gewijzigd, ook het instrumentarium heeft een grote verandering ondergaan. Het Design museum Gent illustreert de geschiedenis van bestekken aan de hand van ca. 1000 items afkomstig uit een prive-collectie. Die verzameling geldt als de grootste ter wereld en toont zowel functionele, vormelijke als decoratieve aspecten. In de tentoonstelling worden ook een vijftal tafel-settings getoond: gedekte tafels uit de renaissance, barok, rococo, art nouveau en art deco.
EUR 47.90
Naar boven