Nieuw binnengekomen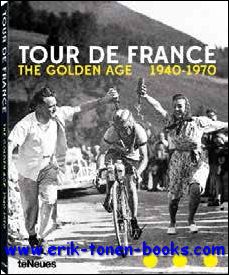 N/A
Tour de France The Golden Age 1940-1970
teNeues, 2015.. Hardback, 340x275mm, 178p, 16 colour illustrations, 105 bw illustrations,
English/ French/ German edition .
Eagle of Toledo" and "The Cannibal," "The Angel of the Mountains" and "Leatherhead." A sporting event where the heroes earn nicknames like these must be incredibly powerful and alluring. The names reflect the nearly mythical aura surrounding the Tour de France. The men who bore these monikers, Federico Bahamontes and Eddy Merckx, Charly Gaul and Jean Robic, are only some of the protagonists representing the golden era of cycling who appear in this wonderful coffee table book. We see them on their legendary mountain stages, marked by inhuman strain and exertion, and as victors at the finish line, relieved and feted by cheering crowds. As appealing as these pictures from the 1940s to the 1970s are, some of their charm comes from the odd detail that makes a contemporary viewer smile: the leather helmet Jean Robic wore (ergo "Leatherhead"), or cyclists repairing and inflating tires themselves. Especially impressive are the photo series of epic duels, such as the one between Jacques Anquetil and Raymond Poulidor. Whether color or black and white, the photographs in this volume have a very special patina that allows the reader to revel in the greatest moments of a race that has enthralled millions of people since 1903.
EUR 59.89
Naar boven