Nieuw binnengekomen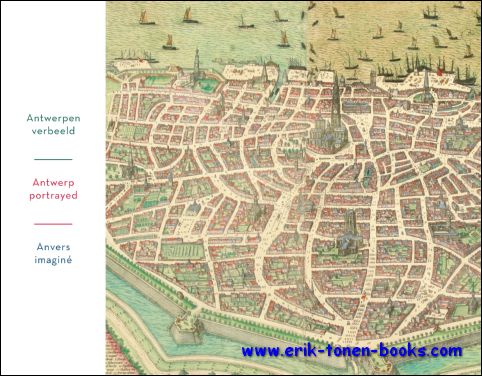 lombaerde / geerts.
Antwerpen verbeeld | Antwerp portrayed | Anvers imagine
[BE] BAI, 2015.. Hardback, 240x180mm, 96p, throughout colour illustrations, English/ French/ Dutch (NL) edition .
In de zestiende eeuw groeide Antwerpen uit tot een internationale handelsmetropool. Het uitzicht van de stad veranderde razendsnel. Aan de hand van stadsgezichten, plattegronden en historieprenten volgt De stad getekend het wel en wee van Antwerpen in deze turbulente periode. De stad getekend volgt aan de hand van kaarten en plattegronden de snelle ontwikkeling van Antwerpen in de zestiende eeuw. Sommige kaarten hebben een onderliggende bedoeling: de stad verheerlijken en haar bijzondere kwaliteiten in de verf zetten. Historieprenten en kaarten portretteren de stad tijdens dramatische gebeurtenissen, zoals de Beeldenstorm en de Spaanse furie. Ook in vreedzame voorstellingen zoals Blijde Intredes en ijsprettaferelen, schetsen kunstenaars een gedetailleerd portret van de stad. Au XVIe siecle, Anvers devient une metropole commerciale internationale. L'apparence de la ville change extremement rapidement. Sur la base de vues de la ville, plans et gravures historiques, l'exposition La ville dessinee suit les aleas de la ville d'Anvers durant cette periode turbulente. La ville dessinee suit au moyen de cartes et de plans de developpement rapide d'Anvers au XVIe siecle. Certaines cartes ont un objectif sous-jacent : glorifier la ville et mettre ses qualites particulieres sous les projecteurs. Gravures historiques et cartes depeignent la ville lors d'evenements dramatiques tels que la Fureur des iconoclastes et la Furie espagnole. Mais meme dans les scenes pacifiques, comme les Joyeuses entrees et les scenes de patinage, les artistes consacrent beaucoup d'attention au paysage urbain. In the sixteenth century, Antwerp developed into an international commercial capital. The city's appearance changed very quickly. Using views of the city, maps and historical prints, the exhibition Drawing the city follows Antwerp's varying fortunes during this turbulent period. Using maps and plans, Drawing the city follows the rapid development of Antwerp in the sixteenth century. Some maps have an underlying purpose: to glorify the city and draw attention to its special qualities. Historical prints and maps portray the city during dramatic events such as the destruction of religious images known as the Beeldenstorm and the Spanish Fury, but in peaceful scenes too, such as Joyous Entries and ice scenes, artists provide a detailed portrait of the city.
EUR 27.00
Naar boven