Nieuw binnengekomen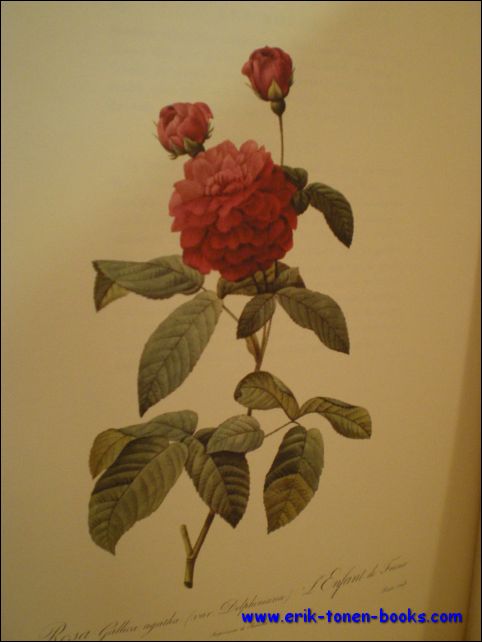 REDOUTE, Pierre-Joseph; THORY, Claude-Antoine.-
(Botanique, Fac-simile) - Les Roses, par P.J. Redoute, peintre de fleurs, dessinateur en titre de la Classe de Physique de l'Institut et du Museum d'Histoire naturelle. Avec le texte, par Cl. Ant. Thory.
PARIS, (ANTWERP), FIRMIN DIDOT (DE SCHUTTER S.A.),, 1817-1824 (1974 [- 1978).. 4 vol. tres gr. in-fį. Rel. moderne , -- Bound, Large folio (55 x 36 cm). 4 volumes.156,122,125,386 pp. With 179 very fine colour plates. A complete facsimile of the first edition.
FAC-SIMILE de l'edition originale illustree du portrait de Redoute, d'une couronne florale en guise de frontispice et de 169 gravures en couleurs finement gravees d'apres Redoute, le "Raphael des fleurs". Monument de la litterature botanique, tant sur le plan artistique que scientifique et documentaire, donnant des specimens anciens dont plusieurs ont disparu entre-temps. Texte et classification dans leur ordre naturel par Thory (1757-1827), amateur botaniste et polygraphe. Pour le fac-simile, il a ete ajoute 1 volume de "Commentaires" en francais et anglais par Gisele de La Roche et Gordon D. Rowley. Tirage a 510 ex. num.-- An limited reprinted edition to 510 copies, With 179 colour plates. Finely a foreword by George Taylor, introduction and bibliography by G.D. Rowley, biographies and bibliographies, with additions from the third edition, portraits, and extensive new material including commentaries, fine condition.
EUR 2850.00
Naar boven