Nieuw binnengekomen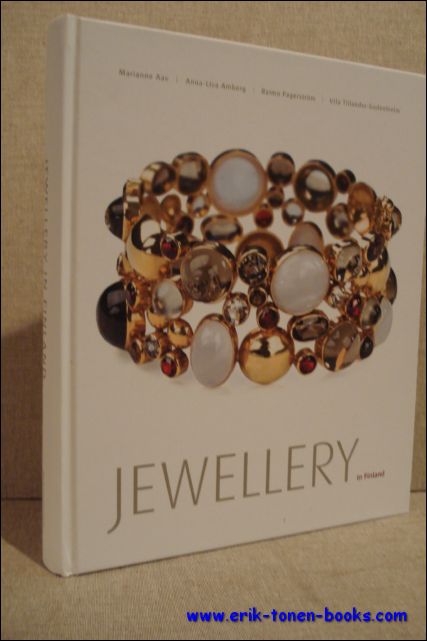 Marianne Aav , Ulla Tillander-Godenhielm, Raimo Fagerstrom
Jewellery in Finland.
Designmuseo, 2012.. hardbound, 316 pp. illustations in color. fine!
JEWELLERY IN FINLAND. Marianne Aav ( 2009-2012 ), Eeva Viljanen. Artikkelit : Ulla Tillander-Godenhielm : History and Tradition in Finnish Jewellery, Raimo Fagerstrom : Jewellery as an Indicator of Status, Ulla Tillander-Godenhielm : Otto Roland Mellin and the Archaelogical Jewellery Style, Anna-Lisa Amberg : Eric O. W. Ehrstrom ? Master Craftsman, Raimo Fagestrom : From Traditional Goldsmithing to Art Jewellery, Marianne Aav : Jewellery Art ? Late Phenomenon in Finland, Helena ja Lars Pahlman, Collectors of Contemporary Jewellery. The fascinating world of jewellery is presented with both examples from past centuries and the work of designers representing new, industrially made jewellery in Finland. The trailblazing companies of the field, Kalevala Koru, Kaunis Koru and Lapponia Jewelry, and their designers, have contributed in a variety of ways to the Finnish culture of jewellery, which also comprises unique works of art that are successful in international competition. Since 1960s, Finland has jewellery artists and designers that have broken with tradition and worked with different materials and forms in their search for their own approach. There are many jewellery artists, although their works appeal, for the time being to only a small group of experts. An interview with Helena and Lars Pahlman, who began to collect jewellery art or experimental jewellery in the 1970s in Finland, explores their interest in this pastime and illustrates their collection, of which one hundred examples chosen by them are presented.
EUR 49.00
Naar boven