Uitgelicht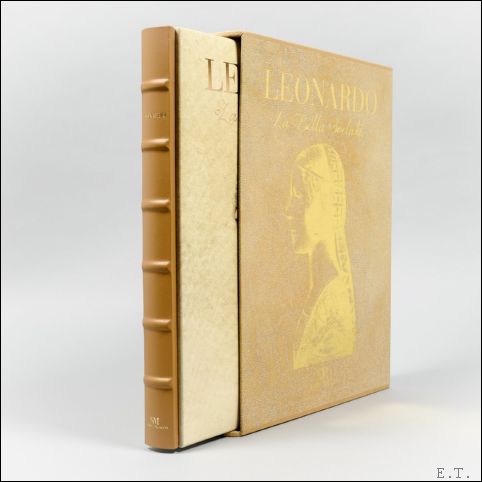 Elisabetta Gnignera
Leonardo, La Bella Svelata * Limited and numbered Edition. English edition. Leonard da Vinci.
Scripta Maneant, 2016.. Fine hardcover binding; Gold hot foil printing on the cover & slipcase. Elisabetta Gnignera. English, Italian. 244 pages, 120 illustrations 32,8 x 42 cm. 4.7 kg. Hard cover in slipcase. / Fadenheftung mit 6 Bunden auf dem Buchrucken. Goldheissfoliendruck auf dem Cover & Schuber. Elisabetta Gnignera. Scripta Maneant 2016. Gnignera. Scripta Maneant Englisch, Italienisch. 244 Seiten, 120 Abb. 32,8 x 42 cm. 4,7 kg. Fester Einband im Schmuckschuber. new copy.
La Bella Principessa is a fascination: It was not until 1998 that the drawing found its way into the art world and appeared in an auction catalog. The picture was supposed to come from the 19th century, the artist and the portrater unknown. It was sold for a few thousand dollars. Only in 2008, when the Leonardo expert Martin Kemp sees a photo of the picture, is the first time the question arises whether the drawing is a work by Leonardo da Vinci. Thus, the potential value of the image was $ 100 million. Kemp begins researching to have the drawing examined: he concludes that the portrait depicts Bianca Sforza and that Leonardo made the drawing in 1496 on the occasion of her marriage to Galeazzo Sanseverino. Traces of a thread binding on the sheet suggest that it was part of a book. The drawing fits perfectly into a chronicle of the Duke of Milan and the Sforza family, a luxurious souvenir collection, which is now kept in the Polish National Library. Kemp is certain that "La Bella Principessa is a portrait of Leonardo, pasted into a book but later framed." Leonardo La Bella Svelata chooses Leonardo's drawing of the Bella Principessa as a starting point, whose portrait is now returned to a large, beautifully designed splendor band. The author offers unique access to the courtly world of the Renaissance through clothing, hairstyle and cosmetic preferences. A book that is unique in terms of content and design! //// La Bella Principessaist ein Faszinosum: Erst 1998 fand die Zeichnung ihren Weg in die Kunstwelt und tauchte in einem Auktionskatalog auf. Aus dem 19. Jahrhundert sollte das Bild stammen, der Kunstler und die Portratierte unbekannt. Es wurde fur ein paar Tausend Dollar verkauft. Erst 2008, als der Leonardo-Experte Martin Kemp ein Foto des Bildes sieht, kommt erstmals die Frage auf, ob es sich bei der Zeichnung um ein Werk Leonardo da Vincis handele. Damit wurde sich der mogliche Wert des Bildes auf 100 Millionen Dollar belaufen. Kemp beginnt zu recherchieren, die Zeichnung untersuchen zu lassen: Er kommt zu dem Ergebnis, dass das Portrat Bianca Sforza darstellt und dass Leonardo die Zeichnung 1496 anlasslich ihrer Hochzeit mit Galeazzo Sanseverino anfertigte. Spuren einer Fadenbindung an dem Blatt lassen darauf schliessen, dass es Teil eines Buches war. Die Zeichnung passt perfekt in eine Chronik des Herzogs von Mailand und der Familie Sforza, ein luxurioser Erinnerungsband, der heute in der Polnischen Nationalbibliothek aufbewahrt wird. Kemp ist sich sicher, dass ?La Bella Principessa ein Portrat von Leonardo ist, das in ein Buch eingefugt, aber spater gerahmt wurde.? Leonardo La Bella Svelata wahlt als Ausgangspunkt Leonardos Zeichnung der Bella Principessa, deren Portrat nun in einen grossformatigen, wunderschon gestalteten Prachtband zuruckkehrt. Die Autorin bietet anhand von Kleidung, Haartracht und kosmetischen Vorlieben einen einzigartigen Zugang zu der hofischen Welt der Renaissance. Ein inhaltlich wie gestalterisch einzigartiges Buch!
EUR 295.00
Naar boven