Uitgelicht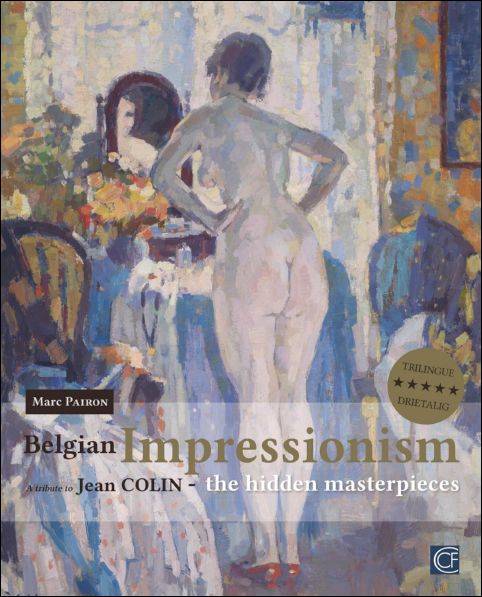 Marc Pairon
Belgian Impressionism. The Hidden Masterpieces A tribute to Jean Colin
Aartselaar, Charles Catteau, asbl, 2017.. Hardback, 310x250mm, 304p, 110 colour illustrations,
English/ French/ Dutch (NL) edition .
Jean Colin (1881-1961) is a Brussels painter that is no longer known today because he often followed the way to realism. This way of painting, which while he was alive fully assured him success, has passed fashion and no longer draws art lovers. But Colin also left high level impressionist works that have no longer been shown since his death, works he painted for his own pleasure, conscious as he was that his conservative customers couldn't appreciate them. After Colin's death, most of his impressionist works were spread out between the members of his family-in-law or bordered in the museum reserves. This ?tribute? is the amazing story of what happened to Jean Colin and to his hidden masterpieces. The introduction essay is by Eric Min, biographer of James Ensor, Rik Wouters and Henri Evenepoel. Jean Colin (1881-1961) est un peintre bruxellois qu'on ne connaît guère aujourd'hui parce qu'il a surtout suivi la voie du réalisme. Cette façon de peindre, qui lui assura de son vivant un plein succès, a passé de mode et n'attire donc plus les amateurs d'art. Mais Colin a aussi laissé une ?uvre impressionniste de haut niveau sur laquelle on fit silence après sa mort, des tableaux qu'il peignit pour son propre plaisir, conscient du fait que sa clientèle conservatrice ne pouvait les apprécier. L'artiste disparu, la plupart de ses ?uvres impressionnistes furent réparties entre les membres de sa belle-famille ou confinées dans les réserves des musées. Cet « hommage » est l'étonnant récit de ce qu'il advint de Jean Colin et de ses chefs-d'?uvre cachés. L'essai d'introduction est d'Eric Min, biographe de James Ensor, Rik Wouters et Henri Evenepoel. Jean Colin (1881-1961) is een tot op heden nauwelijks bekende Brusselse kunstschilder, omdat hij meestal werkte in een realistische stijl. Kunst die toentertijd vlot kopers vond, is vandaag echter uit de mode en wordt niet meer door de geroutineerde kunstliefhebber gewaardeerd. Nochtans heeft Colin ook een meesterlijk impressionistisch oeuvre nagelaten, al werd geen enkel stuk ervan ooit postuum geëxposeerd. Colin schilderde die doeken immers voor zijn eigen plezier. Hij besefte dat zijn conservatieve clientèle er niet rijp voor was.
EUR 38.50
Naar boven